ABOUT JUDY SHEPARD.
Judy Shepard (née Peck; born 1952) is the mother of Matthew Shepard, a 21-year-old student at University of Wyoming who was murdered in October 1998 in what became one of the most high-profiled cases highlighting hate-crimes against LGBT people. She and her husband, Dennis, are co-founders of the Matthew Shepard Foundation, and advocates for LGBT rights.
Activism
---
Shepard (center), Louvon Harris (left), Betty Bryd Boatner (right) with President Barack Obama in 2009 to promote the Hate Crimes Prevention Act
Main articles: Matthew Shepard Act and Matthew Shepard Foundation
Activism (continued)
---
On October 6, 1998, Judy's older son Matthew was beaten and pistol whipped in Laramie, Wyoming. Matthew Shepard died six days later at Poudre Valley Hospital in Fort Collins, Colorado on October 12, 1998 at age 21. It was widely reported by mass media that it was due to his being gay. The incident became one of the defining cases of hate-crimes and was cited for passing hate-crime legislation. In response, Judy Shepard created the Matthew Shepard Foundation. The foundation's purpose is to advance "social justice, diversity awareness and education, and equality for lesbian, gay, bisexual and transgender (LGBT) people".[1]
She is the founding president of the Foundation's Board of Directors, and served as the first executive director from 1999 to 2009. On March 20, 2007, the Matthew Shepard Act (H.R. 1592), a bill which would expand federal hate-crimes legislation to include sexual orientation, was introduced as federal bipartisan legislation in the U.S. Congress, sponsored by Democrat John Conyers with 171 co-sponsors. Judy and her husband Dennis were present at the introduction ceremony. That bill did not pass however, after then-President George W. Bush threatened to veto the bill if it passed.
As of 2009, she is still board president of the foundation, and as a result she travels across the United States speaking to different audiences. In 2009, she published a memoir, The Meaning of Matthew[4][5] about how her family dealt with his murder, the subsequent court cases, the media coverage, and their work to advance civil rights over the last decade.[1]
In May 2009, Shepard met with President Barack Obama, where he promised her he would help pass the Matthew Shepard Act.[6] There was a controversy when the act was being debated in the House of Representatives, and while Judy Shepard was in the audience, Representative Virginia Foxx, R-N.C., called the allegation that the murder of Matthew Shepard was because of his homosexuality a hoax; later she apologised for this statement.[7]
On October 11, 2009, she addressed a rally for LGBT rights in the United States Capitol, at the National Equality March, saying "I'm here today because I lost my son to hate…. No one has the right to tell my son whether or not he can work anywhere. Whether or not he can live wherever he wants to live and whether or not he can be with the one person he loves — no one has that right. We are all Americans. We are all equal Americans, gay, straight or whatever"[8] On the Saturday night before, President Obama addressed the Human Rights Campaign in the Capitol and mentioned his promise to Judy Shepard in the Oval Office, in his reassertion of his commitment to pass legislation important to the LGBT community.[9]
In 2009, she authored the book The Meaning of Matthew: My Son's Murder in Laramie, and a World Transformed about the incident and its repercussions.
On October 22, 2009, the United States Congress passed the Matthew Shepard and James Byrd, Jr. Hate Crimes Prevention Act, and on October 28, 2009, President Obama signed the legislation into law.
Awards and honors
---
In 2009, Judy Shepard received the Black Tie Dinner Elizabeth Birch Equality Award. The award was presented to Ms. Shepard by Elizabeth Birch, herself, on October 3, 2009 in Dallas, Texas. The Birch Award is presented each year at the Black Tie Dinner to someone who has made a significant impact nationally on the fight for LGBT equality, and is named in honor of former Human Rights Campaign Executive Director Elizabeth Birch.[10]
On Monday, February 15, 2010; Heritage of Pride, the producers of the annual LGBT Pride March down 5th Avenue in New York City announced that Judy Shepard has been selected as a grand marshal for the March along with Lt. Dan Choi previously announced.[11][12] [13][14]
Bibliography
---
Shepard, Judy (2009), The Meaning of Matthew: My Son's Murder in Laramie, and a World Transformed, Hudson Street Press. ISBN 1-59463-057-7
Title 18, U.S.C., Section 249
Matthew Shepard and James Byrd, Jr., Hate Crimes Prevention Act
---

This statute makes it unlawful to willfully cause bodily injury—or attempting to do so with fire, firearm, or other dangerous weapon—when 1) the crime was committed because of the actual or perceived race, color, religion, national origin of any person, or 2) the crime was committed because of the actual or perceived religion, national origin, gender, sexual orientation, gender identity, or disability of any person and the crime affected interstate or foreign commerce or occurred within federal special maritime and territorial jurisdiction.

The law also provides funding and technical assistance to state, local, and tribal jurisdictions to help them to more effectively investigate, prosecute, and prevent hate crimes.

The law provides for a maximum 10–year prison term, unless death (or attempts to kill) results from the offense, or unless the offense includes kidnapping or attempted kidnapping, or aggravated sexual abuse or attempted aggravated sexual abuse. For offenses not resulting in death, there is a seven–year statute of limitations. For offenses resulting in death, there is no statute of limitations.
Shepards Speak to FBI in Clarksburg, WV Coinciding Release of 2014 Crime Stats
---
Violence against the LGBTQ+ community didn't begin or end with Matthew Shepard. In fact, in huge portions of America, properly identifying, reporting and prosecuting these heinous crimes hasn't even begun — despite the 2009 passage of the Shepard-Byrd Act. Matthew's story, and the Foundation's work to Erase Hate, are—unfortunately—still critical in coming to terms with the roots of violence against our community.
On September 28, Judy and Dennis Shepard, along with Dave O'Malley, the lead investigator into Matthew's murder in Laramie, Wyo. in 1998 and now sheriff of Albany County, Wyoming, joined the Federal Bureau of Investigation's Criminal Justice Information Services (CJIS) to urge better hate crimes reporting and to spotlight the distressing lack of basic information about this epidemic of violence.
Their presentation coincided with the FBI's release of 2014 Uniform Crime Report (UCR) statistics, with specific statistics regarding hate crimes still to be released this November.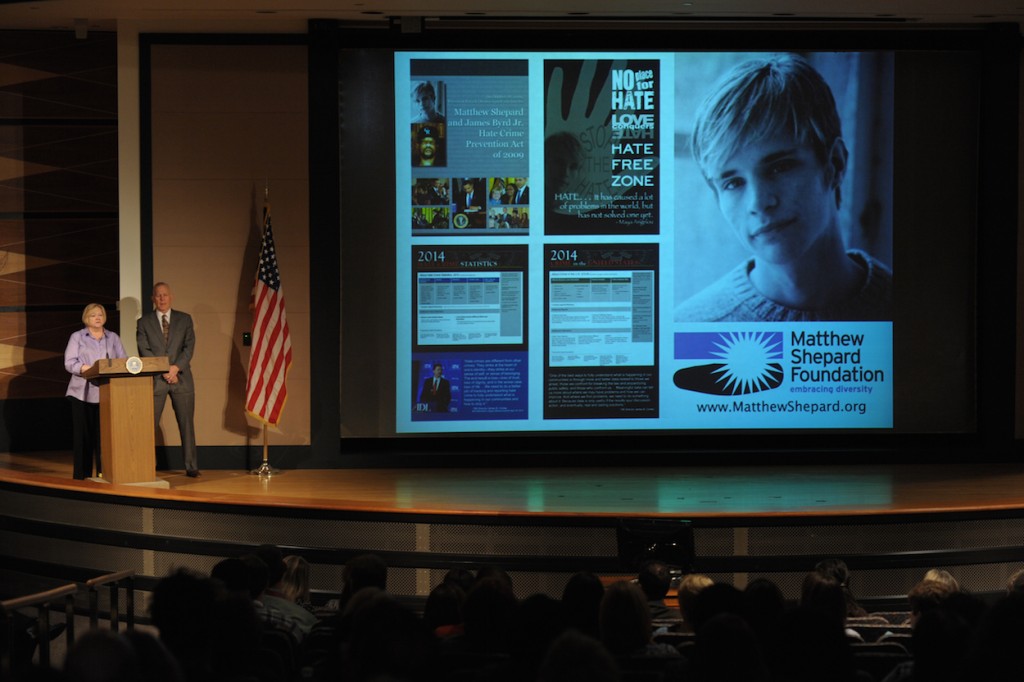 With an audience of more than 300 FBI agents, the Shepards and O'Malley reinforced the importance of the Matthew Shepard and James Byrd, Jr. Hate Crimes Prevention Act, a long-sought and hard-won bill that brought sexual orientation and gender identity into the federal hate crimes law. It is still entirely voluntary for local law enforcement agencies to collect and report hate crimes totals; more than 85 cities with over 100,000 people do not do so, part of the one-third of all agencies nationwide that fail to track these crimes.
Facing this enormous gap, Judy and Dennis delivered an essential message: that officials must not overlook the shattered lives behind these fragments of information.
"Your numbers are about real people," Judy said. "And they help people resolve real problems in their lives."
In addition to the Shepards' well-received message, FBI Director James Comey encouraged CJIS officials to participate in the new National Incident-Based Reporting System (NIBRS), which was "created to improve the quantity and quality of crime data collected by law enforcement by capturing more detailed information on each single crime occurrence."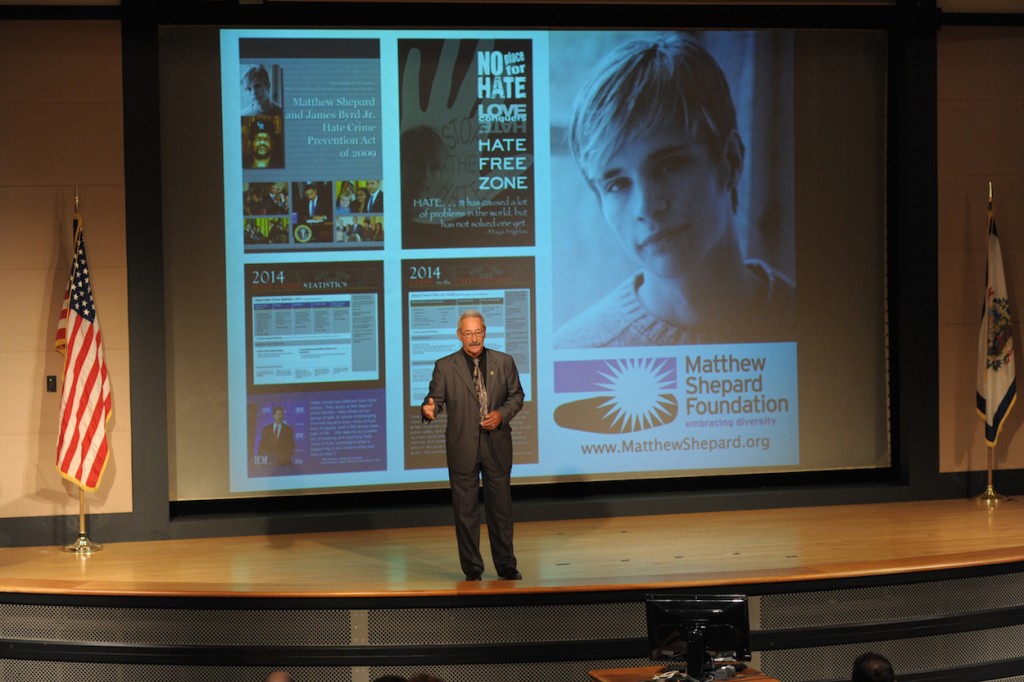 Compared to the UCR Summary Report, the NIBRS contains more specific reporting classifications, such as differentiation between Crimes Against People and Crimes Against Property, and an expanded list of offenses ranging anywhere from aggravated or sexual assault, to vandalism. A more detailed reporting and data collection system is crucial to hate crimes reporting initiatives, given the vast variety of hate crimes committed. The violence—often brutal and fatal—against the LGBTQ+ community is frequent and rampant, but expressions of hate are not limited to these acts. We see everything from spray-painted racial epithets on walls to vandalism and property destruction of same-sex families' homes, all deliberate "non-violent" acts designed to instill fear and a feeling of being "unwelcome" in a community. These crimes, though luckily enough free of casualties, pose much the same threat as those that do.
Both during his presentation and coverage of the event, Dennis Shepard reminded others that this is not about putting gay rights front and center—because there is "no such thing."
"There is no such thing as gay rights. They're not special rights. They're equal rights for all citizens of this country," he said. "I get so frustrated [when people] try and make it out that the gay community is getting something that no one else has."
Proper hate crimes reporting and data collection is an important step toward identifying how to address the hate that lives in our communities. The Shepards' visits with law enforcement agencies across the country is crucial to creating a more educated police force and helping foster better relationships between law enforcement and marginalized groups.
All photos courtesy of the FBI CJIS Division.
---
Matthew Shepard Foundation 2015 Initiative Expands Role in Foundation's Advocating Polices and Procedures (including foundation training to law enforcement), and Victim Resources and Support
Contact info@matthewshepard.org For Details
---
Source: Wiki (copyleft) on Judy Shepard, Matthew Shepard Foundation, and the Matthew Shepard Foundations website (www.matthewshepard.org)
Matthew Shepard Foundation, 2015, Police Misconduct Fundraising Solicitation Letter, Direct Mail piece